The strength of NUIX.The power of TALINO.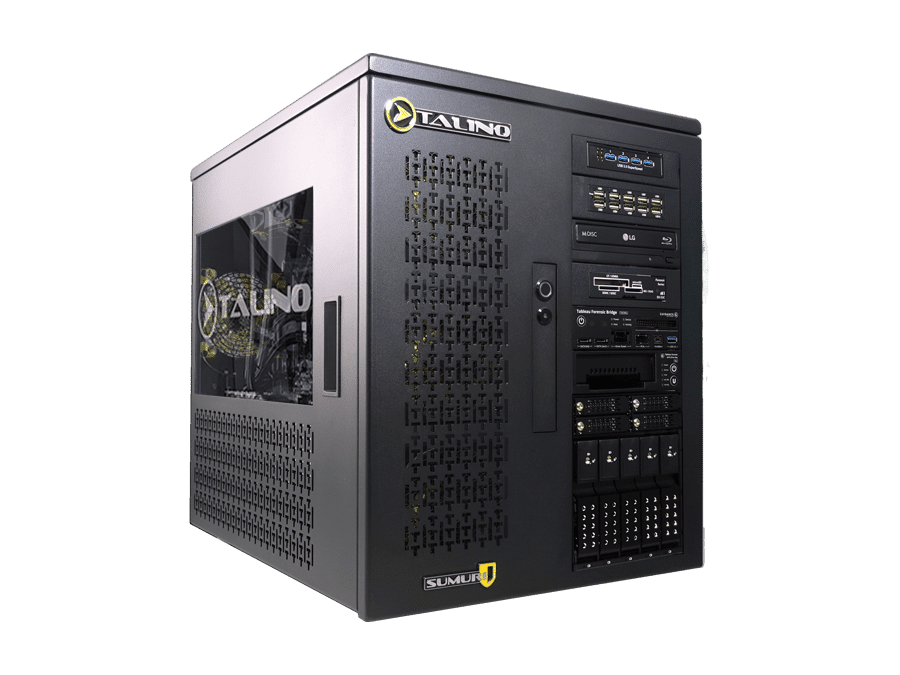 Expertly designed by forensic examiners for forensic examiners
Extremely fast RAM and I/O speeds in every system
Dedicated RAID controllers in all system
Unbeatable price, quality, performance and service
Overview
The SUMURI Nuix Workstations brand of computers is built on the most reliable and stable platform designed by Certified Forensic Computer Examiners. Each custom workstation is built with expandability and a future proof mindset so that you are not replacing the computer every few years with an entirely new computer. We give you the highest quality proprietary chassis to start with and load it with all high end components that are ALWAYS at the top end of the spectrum in speed for each specific model. With partners like Samsung and EVGA we lead the pack in high end workstations with unbeatable pricing.
Designed by experts for experts
Our computer design and optimization is driven by the fact that we are forensic practitioners with decades of forensic knowledge. Every system was designed by a Certified Forensic Computer Examiner and the configurations used for the workstations were developed based off feedback from the companies that created the software combined with our real life experience working cases. We install and process all the major forensic programs such as FTK, Encase, Axiom, etc during the design phase to make sure that the workstation is optimized for your forensic needs.
We don't beat the competition, we crush it!
We use only highest quality components that have been tested and vetted here in our lab.
Our partnerships with Samsung, Areca and HGST allow us to provide the highest quality, fastest components on the market. We NEVER sacrifice quality to increase profit. This scalability allows you to continue to expand the lifecycle of the workstation well beyond what our competitors can provide.
The chassis used in the Workstation is a proprietary product designed by us and is not available from anyone other than SUMURI LLC. The aluminum chassis has been increased by 50% to provide ultimate heat dispersal and durability.
Every TALINO Nuix workstations is hand built based on your unique requirements and to our exacting standards. No competitor offers ANYTHING close!
Our custom built proprietary chassis are made from 3mm powder coated heat dispersing aluminum and are not available anywhere else. Combined with up to 15 120mm fans it's no wonder TALINO's process cases in half the time. And of course every TALINO comes with a custom designed version of PALADIN, our award winning software. NIST certified PALADIN gives you access to dozens of open source tools including Autopsy by sleuthkit and a toolbox that allows you to image and triage in a forensically sound write blocked environment.
Every TALINO workstation is burned in for 72 hours using multiple stress testing and benchmarking tools. The goal of our quality assurance team is to try and "break" the workstation before shipping it. From logical stress tests to actually physically restricting the airflow to the TALINO we do everything in our power to make sure no TALINO leaves the lab until it has been put through the wringer.This is backed by our industry leading 3-year warranty and lifetime access to our support line for every TALINO user. Day or night we are there when you need us.