Newer Macs have been shipping with proprietary T2 Security Chipsets which add extra layers of security. One of these new security features prevents booting from external media. This "Secure Boot" is enabled by default and can only be turned off in Recovery Mode with an admin password.
If you are not sure how to disable Secure Boot and enable External Boot in Recovery Mode, you can do the following:
Boot the source Mac into Recovery Mode by pressing and holding the Command + R keys on startup.
Choose Utilities > Startup Security Utility from the menu bar.
Then, you will be prompted to enter an administrator password.
In the Startup Security Utility menu:
Disable secure boot by setting "No Security" under Secure Boot
Enable "Allow booting from external media" under External Boot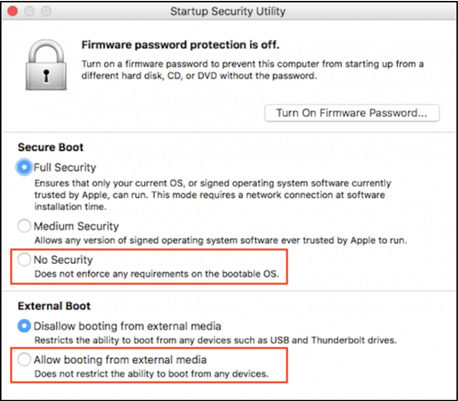 Shutdown the Mac after changing the settings.
Insert the RECON IMAGER USB to the source Mac.
Power up the source Mac while holding down the ALT/Option key.
Use MODE-C.
Follow the instructions in the RECON IMAGER manual to create a logical image of a T2 Security Chipset Mac.
---
RECON ITR includes both Bootable and Live Imaging solutions to image all Intel Macs and their filesystems.
RECON ITR combines both the functions of bootable and live imaging from RECON TRIAGE and RECON IMAGER PRO into an integrated solution that automatically identifies, displays, and can image FileVault, APFS, and Core Storage volumes and disks at a cost well below any other tool.
RECON ITR images all Intel-based Macs including the newest generation of Macs with APFS and T2 Chipsets.
Click the button to discover more about RECON ITR.

---