How to decide which PALADIN is right for you?
PALADIN has proven to be SUMURI's biggest accomplishment in its mission to continually improve and assist the forensic community. For years, this swiss army knife of modern forensics has been used in labs worldwide to assist law enforcement and corporate examiners in countless investigations. However, there are a number of examiners out there that haven't encountered PALADIN yet. This post aims to assist examiners who have yet to make PALADIN part of their forensics toolkit by helping them to choose the right version for their needs.
PALADIN is distributed in two ways: electronically and physically.
The electronic version is broken up into three different ISOs, PALADIN LTS, PALADIN EDGE 64, and PALADIN EDGE 32, each containing slight differences to assist examiners in different situations. These versions are all available for download through the SUMURI shop page. They are distributed as donationware, meaning for-profit agencies must make a $25 minimum donation per license. Alternatively, non-profit organizations, law enforcement agencies, and educational institutions are not required to donate.
Once the ISO has been downloaded, examiners can create their PALADIN drive using a bootable USB burner like Rufus. Instructions on accomplishing this are available at the following link: https://sumuri.com/how-to-make-your-own-paladin-usb/.
PALADIN PRO, on the other hand, is a physical USB drive configured and shipped by the SUMURI team. This USB comes with PALADIN LTS, PALADIN EDGE 64, and PALADIN EDGE 32, all installed on a single USB priced at $74.99 plus shipping per drive. PALADIN PRO is not available as a downloadable ISO mentioned above.
All of this can seem rather confusing at first glance, so please refer to the chart below for the differences between these three versions and PALADIN PRO.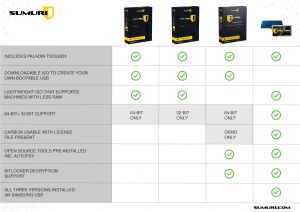 For most cases, PALADIN PRO is going to be your best bet for getting PALADIN in your lab. It's remarkably simple to update, includes the most features of any of the other versions as it contains all three of the other versions, can be easily licensed by our software team to support our virtual forensic suite CARBON and comes on a premium Samsung USB to ensure the drive's longevity.
Ultimately, each version of PALADIN has its way of benefiting your investigations at almost no cost. Head to the SUMURI shop page to get started with one of the most valuable tools in your digital forensic arsenal. https://sumuri.com/product-category/brands/paladin/
As always, if you have any questions about the tools, please feel free to reach out to hello@sumuri.com, and our team would be happy to assist in any way we can.