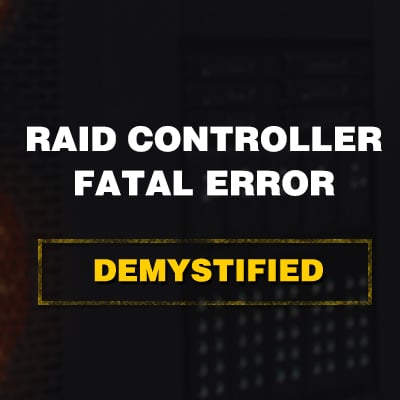 Unbeatable Pricing. Unrivaled Performance.
The RAID controller fatal error…fact or fiction
You just moved your forensic workstation from the closet that your agency stuck you in to the new ICAC task force lab you've been assigned to. You get everything set up, fire up your machine ready to bring evildoers to justice and … you get a fatal error message telling you that one of the hard drives in your RAID has failed and needs to be replaced. Luckily you have a spare drive handy, you make the swap, you fire the machine back up and you're back in business. Sounds good, right? What if the issue was that cabling came loose? RAID controllers are designed to get your attention when they detect an issue. Some will send that critical, failed error message to your desktop on boot, others will use an audible, high pitched alarm, and some will even send you an email if you want, in case you're not at your lab. The error message is usually not verbose, so it looks the same whether you have a loose cable, have a loss of power, or an actual failed drive. The RAID controller just wants you to know there is a potential problem, hopefully before you loose any data. So if you get that RAID controller fatal error message, be sure to check all the cables both at the drive and at the controller to make sure they are firmly seated. You might just save yourself some time and the cost of a replacement drive.
Our biggest advantage over our competitors are the people who have made TALINO not just a job but a passion. We are passionate about the machines we build and are available at any time to offer support to you. In fact, here's my contact information, Jason Roslewicz +1 302 540 9374 or jason@sumuri.com. That's my cell phone and I'm open for business 24/7, so if you have RAID problems give me a call. I install and configure hundreds of RAID controllers a year and I am more than happy to help out. Have a great day and drop me a line anytime you want to talk forensic workstations, whether we built them or not.  
by Jason Roslewicz ,Chief Executive Officer TALINO Division
on February 06,2017